Introduction
Introduction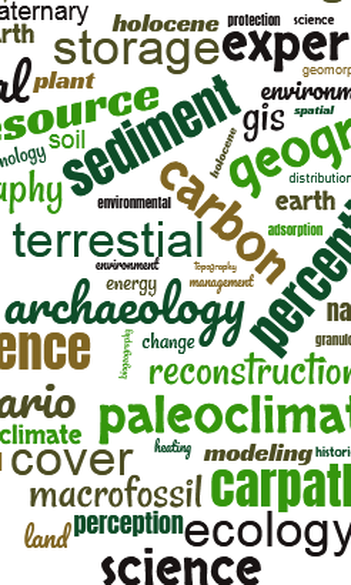 The Department of Environmental and Landscape Geography was established on 1 August 2006 as part of the Institute of Geography and Earth Sciences, following the trend of similar profile departments in Debrecen and Szeged, responding to the challenge of the need for a geographical approach to the problems of the environment and landscape.
Four lecturers of the new department - Gergely Horváth (2006-2015), Károlyné Pavlics (2006-2011), Gábor Csüllög (2006-2021), Béla Munkácsy (2006-) - came from the Department of Geography of the College, while three lecturers - Mária Szabó (2006-20017), Sándor Pap, Gabriella Darabos (2006-) and one laboratory assistant, Katalin Fehér (2006-2021) - came from the Department of Physical Geography. Sándor Pap retired in the same year and was replaced by Balázs Kohán (2008-2022) as assistant lecturer and then as senior lecturer. In 2008, Zoltán Szalai (2008-) joined the teaching staff of the Department from the Geographical Institute, Research Centre For Astronomy And Earth Sciences, Hungarian Academy of Sciences, followed by Enikő Magyari (2017-) in 2017, then Ákos Bede-Fazekas (2021-) and Zoltán Szabó (2021-) in 2021.
The first head of the department was Professor Mária Szabó between 2006 and 2013, who was also the Director of the Institute between 2008 and 2012. In 2013, Zoltán Szalai succeeded Mária Szabó as Head of Department, and since 2018, the Department has been headed by Enikő Magyari.
During the past years, the faculty members of the Department have been active participants in the Faculty's Doctoral Schools of Earth and Environmental Sciences as lecturers and as subject leaders, but they are also present in the Earth Sciences Schools of the University of Debrecen and the University of Pécs, which is not only a recognition of their professional activities, but also an indication of the close links they have established with research centres of other universities. In this context, the Department was asked to organise the VI. Hungarian Conference on Landscape Ecology, which took place at ELTE in 2015.
The main teaching task of the department is to provide environmental education in the undergraduate and teacher training courses, and to take care of the landscape and environmental studies specialisation in the master's degree in geography: to provide lectures, exercises, laboratory exercises and field training in biogeography, soil and landscape geography, landscape analysis and assessment, ecology, nature conservation, environmental protection, energy geography and GIS for students of geography, geography teaching, environmental science, environmental education and other natural sciences. Geoinformatics is becoming increasingly important in both education and research. Over the last 10 years or so, a number of geography students have graduated with a degree in the discipline. Many of them have achieved first place in national scientific student conferences and have been involved in research in the department, and have been accepted to graduate school and obtained doctoral degrees. In recent years, several foreign doctoral students have joined the department's training and research topics, so it can be said that the department also offers doctoral training in English.
The research activities of the Department are characterised by both basic and applied research in the fields of landscape studies (landscape ecology, landscape geography, soil geography, etc.), soil science, environmental geography, historical geography, energy geography, conservation and environmental protection, with a special emphasis on the historical aspects of the interaction between natural and social environments. These can currently be divided into three main areas, representing the complexity of landscape and environmental studies. On the one hand, geoecological and erosion/sedimentation research in close cooperation with the Centre for Astronomy and Earth Sciences, Institute of Geography (Zoltán Szalai), and on the other hand, energy geography and renewable energies in the Energy Geography Research Group (Béla Munkácsy). Thirdly, in the research group "Paleoenvironment and Climate Change" (Enikő Magyari, Gabriella Darabos): paleoenvironmental research with paleoecological methods in Central and South-Eastern Europe, pollen-based paleoclimate reconstructions for the last 30,000 years, long-term ecological studies, Holocene and Late Glacial vegetation dynamics, paleogenetics. The research teams include an increasing number of national and international PhD students, who have participated/are participating in various national and international projects and have been awarded several grants.